Animated videos are a fantastic marketing strategy that can deliver a lot of return if applied properly. Having marketing alone is not enough to grow your business. You need a strategy to go along with all of your marketing tactics. So, although having a great animated video is a good thing for your business, you still have to find ways to get the word out about your business. Let's start with the basics. So you've got an awesome video made. Thinking of what you should do next?
First things first, name your video something catchy that will attract people to click and view. You should keep your title short and sweet and to the point. Lengthy titles don't perform as well as shorter ones.
Make sure your title is relevant to the contents of your video and tells the viewer what your video is basically about.
A good way to help your title be relevant, while also helping rank your video, is to add keywords. Keywords are words or phrases that are trending and many people are searching in your niche.
Next, you can set a thumbnail for your video that will make people want to watch.
Try to choose a thumbnail that demonstrates what your video is about
(you can also upload a customized thumbnail). You can add text to the thumbnail to add some depth to the description of your video. People like knowing immediately what they're getting themselves into if they click a video. When choosing a thumbnail, definitely make use of color. Colorful pictures attract people's attention and can be the reason someone chooses to watch your video.
Now that you've chosen a catchy title and have a great thumbnail, it's time to share it! Here are 6 ways to share your animated marketing video to get the most return for your startup
1. On A Website :
This can be on your website if you already have one made. A video should be on the landing page to get the most views. People will only spend a limited amount of time on your landing page so a video is a good way to catch their attention and have them learn about your startup. You can also post your video on other websites. A good place to share it is on a blog. It can be your own blog that you've made for your startup or someone else's blog who is sharing advice or recommendations. It can also be existing communities where you can spread the word about your video, like
Reddit
or
Quora
. You can either post your video as a reply to one of the questions asked on this platform or simply post it in relevant category to get feedback from users. These communities follow strict guidelines and you may be banned if you spam. So be good.
2. SlideShare :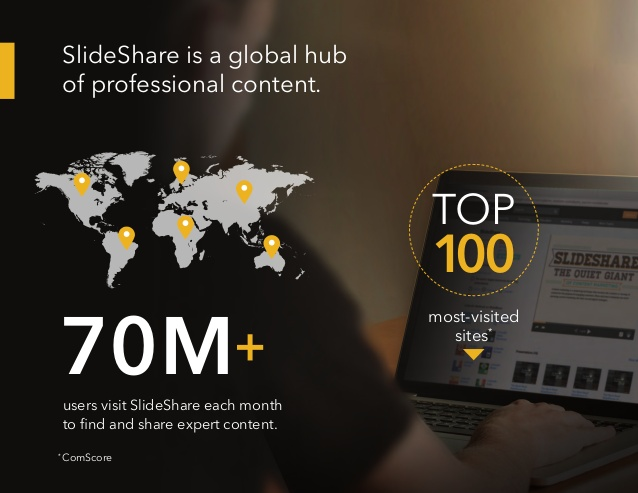 Source : http://www.growandconvert.com/wp-content/uploads/2016/02/slideshare-stats.png?85aa73
One good website to share your animated video is SlideShare. SlideShare is a good place to get your deck noticed by other entrepreneurs, possibly target market, and potential investors. SlideShare allows you to share the link to your video at the end of your deck, which will add to the content you already added plus boost views to your video.
3. Through Email :
If you have an email list for subscribers, you can attach your animated video easily into the email so that all of your subscribers can view it. This is a good tactic because subscribers are people who have already shown interest in your business and are more likely to want to watch your animated video. You can also email the video to your staff so that they may view and share it as they please as well. This can expand your audience and your video can get shared in multiple outlets. You can easily share your video through newsletters or mailers to help spread the word of your business.
4. YouTube :
YouTube is a great way to share your animated videos. It offers options for viewing quality and people all over the world are already familiar with using YouTube. It is even international because it offers translations in several different languages so that your video can reach worldwide audiences. YouTube recommends videos to viewers who have shown interest in a certain subject. So if people have viewed videos related to yours, your video could show up for them to click and view. This can boost your views tremendously.YouTube allows you to add descriptions to your video and communicate through comments. Be sure to add a description! Be as detailed and as informative as possible in your description. You should always add a link to your website, social media sites, or any other place you'd like viewers to explore. Viewers can post questions or concerns in the comments and you can reply quickly and easily which will earn your viewers' attention. YouTube also has several sharing options within itself. It lets you copy the link to your video, as well as share it on a few social media platforms right from the YouTube page.
5. Social Media :
Social media has been on the rise for years and will continue to grow. With billions of people on different social media sites, this is an ideal place to advertise your business. Videos get shared instantly on social media and anyone who can view it, can share it. Several social media platforms also allow for comments or "likes" which can help spread the word of your startup. More "likes" and comments can potentially lead to more views. There are SO many social media sites; Facebook, Instagram, Twitter, Google+, LinkedIn, and so many more; so getting your video out there can be easier than you think.
6. Anywhere!
Video is such a great resource for marketing because of how universal it is. It can be shared basically anywhere, and instantly! With the rise of technology, everyone now has quick and easy access to online videos. So share your animated video everywhere you can and watch your startup grow.
Still figuring how to get an affordable video done for your startup? We can help. Check out
our website
to know more.